Continental

& International Cusine
Northside Bistro
restaurant, in St. Thomas US Virgin Islands, has an extensive and innovative
menu
which is always changing and has something to satisfy everyone including vegetarians and vegans.
Northside Bistro,
in St. Thomas US Virgin Islands, is proud to be serving wines from all over the world - by the bottle or glass. Come and enjoy the intimate wine room, large dining room, relaxing lounge area, large screened-in deck with stunning Atlantic views...
Appetizers
Spanish Garlic Shrimp, Sauteed in Tomato Cocoas, Scallions, Garlic, White Wine Buerre Blanc Sauce. Served over Ciffand Lettuce, OR Bacon Wrapped Asparagus, Drizzled w/Balsamic Reduction, Parmesan & Toasted Almonds
Soup Or Salad
Seafood Bisque w/ Crab & Shrimp in a Rich Lobster Cream, OR Baby Spinach, Mandarin Orange, Goat Cheese, Avocado Salad w/Orange Vinaigrette Dressing
Entrée
Chateaubriand (for Two) Center Cut Tenderloin w/ Bordelaise & Bengasi Sauce.
W/Parmesan Tomato Crowns, Garlic Mashed Potatoes & Broccoli, OR Surf-N-Turf, Lobster Stuffed Filet Mignon. Served w/ Daupinois Potatoes & Asparagus Topped w/Bordelaise OR Vegetarian Trio – Curried Tofu, Tri-Colored Quinoa Vegetable Casserole & Ratatouille
Dessert
From Pastry Chef Anthony Peets - Triple Chocolate Pecan Cream Cake
Special "Bubbles" Cava, Marques de Monistral, Cuvee Brut, Spain $30/btl
Please Call for Reservations 340-775-5098
$140/COUPLE + Gratuity
Wine Tasting Pairings

1st & 3rd Tuesday Every Month.

Tuesday, February 11, 2014
1st Course: Prosecco Millesimato Bedin Antipasto Salad
2nd Course: Arneis La Villa Terre Da Vino Ricotta Sformata
3rd Course: Sangiovese Supetuscan Palurius Casa Sola Tuscan Chicken Torta
4th Course: Monte Cucco Sangiovese il Guardiano Poggio Mandorio Carbonara
5th course: Moscato La Gatta Terre Da VinoTiramisu
Limited Seating. Please call for Reservations 340-775-5098. $49/person + Gratuity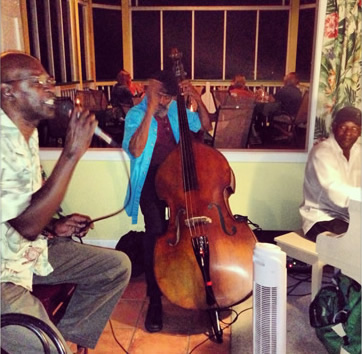 Jazz Night - Saturdays
Every Saturday night, staring Louis Taylor, Jerry Harris and friends at Northside Bistro restaurant, St. Thomas US Virgin Islands. Time: 7-10 pm. Please come join in the fun!

Weddings

& Private Parties
Northside Bistro restaurant & bar in St. Thomas has been the host of many weddings and private parties on the island. We have the catering know-how, ideal space and best views for a fairy-tale wedding or a memorable private party. Inquire here.

Specials

at Northside Bistro restaurant - St. Thomas
F
riday Night Baby Back Ribs
(full rack)
$28
(half rack)
$15.

Saturday Night Prime Rib Special
$28
. See whole
menu here.